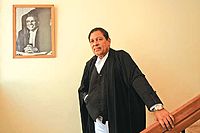 Baba Ramdev, Anna Hazare and Santosh Hegde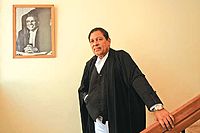 I retired as a senior officer of the Government of India after serving the Government for over 37 years.
I have also studied law and earned a doctorate (not an Honorary Doctorate) in the subject.
The recent issues, incidents and happenings brought to the public glare by Baba Ramdev and Anna Hazare, and hyped to the peak by the media, have left me totally bewildered and in a dizzy.
I have decided to go back to the very basics of corruption, political parties, and the role a government functionary like Santosh Hegde, can and should play in such matters.
Corruption

Corruption is a very serious issue plaguing all the not fully developed countries in the world.
Don't be fooled into believing that there is no corruption in the developed countries. Corruption is very much there. The reasons for far lesser corruption are the very stiff penalties and swift punishment.
It simply does not make economic sense to take the enormous risks if caught.
The result is that you don't have to pay bribes for day to day routine mundane matters.
.
Surprisingly, when we talk of corruption in India, we generally have the government employees and other public officials in mind.
After all, the Lok Pal movement is all about this kind of corruption only.
And the Karnataka Lokayukta, of which Santosh Hegde is the Chairman, broadly covers the same territory (for the State of Karnataka).
The fact is that corruption has permeated the entire society, including the private sector, down to the commonest man.
Just try to sell something to a big corporate body. The purchase manager or assistant will first talk about his commission.
Park your car in an authorized parking lot, say near the Gateway of India (Mumbai), or near the cinema theatres near V.T. (Mumbai), on a Sunday or some other holiday.
The parking attendant will ask for Rs. 100 or so in lieu of the prescribed Rs. 8 or so.
Take a metered taxi from Mumbai Airport to any part of South Mumbai.
The fare meter will show three to four times the correct fare.
When a boy is about to get married, his parents proudly flaunt his "oopari kamai".
And this only ups his value in the matrimonial market, which translates into dowry.
If every person, who gets an opportunity to make some extra money, extracts money, things are not only serious, but call for a self cleaning movement.
Why don't we try to preach this simple truth and meticulously follow it.
Bab Ram Dev

Perhaps Baba Ram Dev is a good yoga teacher.
Most of his claims about treating cancer, etc. remain unsubstantiated, or to be more precise, dubious.
But remember, it is not easy to extract money, call it donations or whatever you like, from powerful politicians and the rich and mighty.
Baba Ram Dev is certainly a great salesman – a salesman par excellence.
Being a sannyasi,  he should not have started the movement for such things as black money, demonetization of large currency notes, and even direct election to the post of prime minister.
But having started the wrong movement, he blotched up the movement,  more so,  by threatening to raise an armed army.
He should have retracted at the right moment and his public image would have remained untarnished.
Now there are more questions than he can answer.
And he has rightly chosen to keep mum.
I was shocked to see him jumping down the stage, running away like a pursued criminal, and then escaping in a sari.
I am yet to see a greater act of cowardice from a sannyasi.
Who could have hurt him in that public place ?
The media was his guarantee of safety, if any was needed.
You can see my comments on Baba Ram Dev on my blog.
Anna Hazare
Anna Hazare is an honest and clean person.
His intentions and motivations are beyond any shade of selfishness.
But in my view, equating  him to Gandhi is going too far.
Gandhiji was fighting against a foreign rule.
Whom are Anna's team fighting with? Our own elected leaders
who are doing what they can legally do.
Anna Hazare's intentions are good. His motives are honest.
But ultimately, it is the MPs and the law of the land which will have the final say.
I would wait and see how things turn out in the future.
At this stage, I would like to put a simple poser……can we say Baba Ramdev and Anna Hazare are indulging in Politics ?
I am not very sure.
What is a Political Party

What is a Political Party. I did a google search. The following is one of the answers.
1. A political party is a group people who share the same ideas about the way the country should be governed.
2. They work together to introduce new laws, the alter old laws.
3. Political parties try to control what happens in Parliament by securing a majority of seats (Members of Parliament).
4. Political Parties have policies. A good example of a policy is "education must be free for all youngsters between the age of 5 to 18 years of age".
5. Usually, when a political party wants to change Laws and Regulations they have to put their idea to all the Members of Parliament. A vote then takes place and if the majority of MPs vote 'YES' then the change to the Law/Regulation takes place.
http://www.technologystudent.com/pse1/polprt1.htm
The above definition deals with political parties which seek to contest elections.
Political parties that wish to contest local, state or national elections are required to be registered by the Election Commission of India (EC).
But there can be, and there are political parties, who do not wish to take part in elections.
In my opinion, what would ultimately decide whether a group is political or not would be the first two criterias:
1. A political party is a group people who share the same ideas about the way the country should be governed.
2. They work together to introduce new laws, the alter old laws.
Judged by this standard, both Baba Ram Dev and Anna Hazare's movements are only political and their groups become political parties.
Santosh Hegde, Lokayukta, Karnataka

Well what does all this have to do with Santosh Hegde.
Karnataka has a Lokayukta Act and also a functional Lokayukta institution.
Let us see what a Lokayukta should not do:
Section 4 of the Lokayukta Act  – Lokayukta or Upalokayukta not to hold any other office
"Lokayukta or Upalokayukta not to hold any other office- The Lokayukta or Upalokayukta shall not be a member of the Parliament or be a member of the Legislature of any State and shall not hold any office or trust of profit (other than his office as Lokayukta or Upalokayukta) or be connected with any political party or carry on any business or practice any profession and accordingly, before he enters upon his office, a person appointed as the Lokayukta or an Upalokayukta shall-
(c) if he is connected with any political party, sever his connection with it; or ..
http://www.kar.nic.in/lokayukta/karnataka_lokayukta_act.htm
There is no doubt that the Lokayukta of Karnataka is a Government Servant, drawing salary, allowances and other perquisites from the Govt. of Karnataka.
I am sure he is expected to devote his entire time and energy to affairs of his office which are basically confined to Karnataka.
Yet, we find him in Delhi, along Anna group, and lobbying for his views.
How can anyone justify this kind of conduct, which in legal parlance is loosely termed…."Conduct unbecoming of a government servant."
But again, who will bell the cat. If the Lokayukta decides to do what he should not do,
people like me can only grumble and have disturbing fitful dreams.
The reason is that the procedure for removing the Lokayukta is as follows:
Section 6 of the Lokayukta Act – Removal of Lokayukta or Upalokayukta
(1) The Lokayukta or an Upalokayukta shall not be removed from his office except by an order of the Governor passed after an address by each House of the State Legislature supported by a majority of the total membership of the House and by a majority of not less than two thirds of the members of that House present and voting has been presented to the Governor in the same session for such removal on the ground of proved misbehaviour or incapacity.
(2) The procedure of the presentation of an address and for the investigation and proof of the misbehaviour or incapacity of the Lokayukta or an Upalokayukta under sub-section (1) shall be as provided in the Judges (Inquiry) Act, 1968 in relation to the removal of a Judge and accordingly the provisions of that Act shall, mutatis mutandis, apply in relation to the removal of the Lokayukta and Upalokayukta as they apply in relation to the removal of a Judge.
Well, in my view what Santosh Hegde, the Lokayukta is doing is all wrong.
I would be grateful if someone could convince me that I am wrong and should modify or change my views.