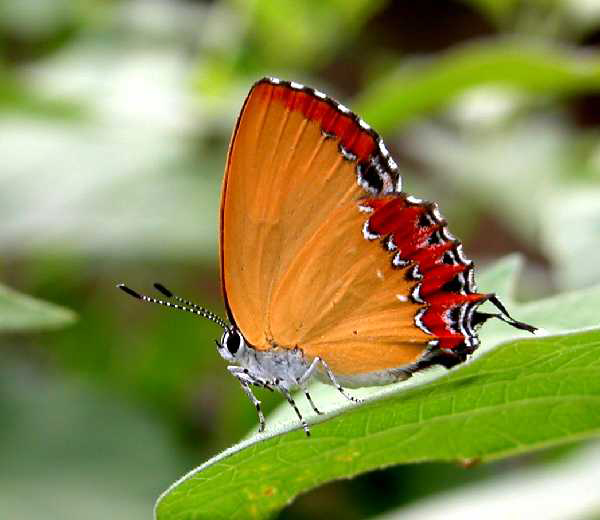 Butterflies are so beautiful that I find it difficult to refer to them as insects, but they are insects.
They are attractive and graceful. Vivid and multi coloured – representing nature's canvas at its finest. The restless butterflies make a fascinating sight flittering around in gardens and parks, hovering over plants, landing on the flowers for a few sips of nectar, before taking off.
Metamorphosis – one of most remarkable phenomenon of nature 
Metamorphosis – the transformation from egg to larva, larva to cocoon, from which emerges a beautiful butterfly – is one of most remarkable phenomenon of nature.
Metamorphosis involves four stages: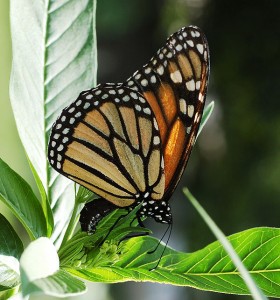 Egg: The female butterfly lays eggs on the underside of specific plants so that when caterpillars later emerge from the eggs, they can immediately get food from the plant leaves.
Larva: Also called caterpillar, emerge from the eggs after a few days. The caterpillar is a eating machine and spends most of its time eating.
Pupa: When the caterpillar has finished growing, it stops eating and forms a protective shield called Pupa. Most of the magical transformation into a butterfly takes place inside the Pupa.
Butterfly: The pupa undergoes transformation and the caterpillar metamorphoses into a butterfly which emerges from the pupa.
The adult butterfly later mates and lays eggs on plants and the cycle starts all over again.
You can see the video of a butterfly metamorphosis at any of the following sites:
http://vimeo.com/7203408
http://lifecycle.onenessbecomesus.com/
Butterfly Facts
There are 1,500,000 insect species in the world.
Of these, 200,000 species are of Lepidoptera (the group to which moths and butterflies belong).
17, 050 of these species are butterflies and the rest are moths!
Of the17, 050 species world wide, India has 1501 species of butterflies
The life cycle of a butterfly is extremely short – mere 30 to 40 days.


 
Butterfly Parks

All over the world, butterflies have suffered extensive damage due to habitat destruction – urbanisation, felling of trees, construction, etc.
In many areas, they have been almost exterminated.
Butterfly parks have been set up in several countries ….to conserve them, to breed them, to allow visitors to see them and to conduct research.
There are quite a few well maintained butterfly parks in different countries of south-east Asia which display quite a large selection of different species.
But unknown to most of us, there are a few good butterfly parks in India, too.
India's First Butterfly Park – Butterfly Park, Bangalore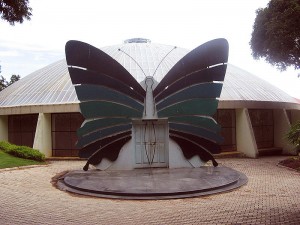 India's first Butterfly Park was opened on November 25, 2006 in Bangalore to promote butterfly ecotourism.
The Butterfly Park, near the Bannerghatta Zoo, cost Rs 50 millions and covers an area of over 7.5 acres.
The centre of attraction is the 10,000 sq. feet circular Conservatory with polycarbonate roof which has on display more than 20 species of butterflies.
The next dome houses a museum. Here you learn about the 4 stages of lifecycle of the butterfly – the egg, larva or caterpillar, pupa or chrysalis, and the adult.
You learn about different species of butterflies – from the smallest Eastern Pygmy Blue, Brephidium isophthalma with a wingspan of about 5/8 of an inch to large Bird-Wing butterflies from New Guinea, with wingspans of up to 12 inches.
The third and last dome is a theatre where you can watch a 20 minute movie about butterflies. Besides giving information about butterflies, the movie focuses on conservation. The movie explains how the fate of man and butterflies are interlinked and conservation of the environment is in our mutual interest.
The Butterfly Park also has an artificial waterfall. It is quite well maintained and has become a popular week end attraction amongst localites.
India's Second Butterfly Park – Butterfly Park, Shimla
India's second Butterfly Park was established at Shimla in Himachal Pradesh. It cost Rs. 60 millions and spreads over an area of 10 acres.
Himachal Pradesh has more than 300 species of butterflies. The Zoological Survey of India (ZSI) found 14 species of butterflies in the cold deserts of Lahaul and Spiti district.
The Butterfly Park which includes a conservatory, a museum and a nature park has a larger collection of butterflies.
The Butterfly Park in Pune was inaugurated by actress Dimple Kapadia on Women's Day – March 8, 2011.
The Pune Municipal Corporation funded the park with Rs. 50 million. The Park covers an area of two acres. The project has transformed a dirty drain into a beautiful park.
The Butterfly Park has about 80 species of butterflies. It also has a rock garden, waterfalls and a jogging track.
Butterfly Park in Chandigarh
The Environment Society of India inaugurated a Butterfly Park at the Commonwealth Youth Programme Asia Centre in Sector 26 of Chandigarh on Biodiversity Day – 23 May 2011.
The Park costing Rs. 70 lakh covers an area of 7.5 acres.
India's first Open-air Butterfly Park in Sikkim

India's first Open-air Butterfly Park was established at Rangrang, Sikkim. It cost Rs. 60 millions and extends over an area of 14 acres
Some nature lovers have started their own private Butterfly Parks.
Butterfly Conservatory of Goa, Rajnagar, Pisgal – Priol, Ponda, Goa.
The Butterfly Conservatory of Goa. situated in Ponda , the Spice and temple town is quite good
This private Butterfly Park is spread over 4000 square metres.  A few common people, without too much money and resources, got together and have converted the place, which was once barren and without any natural source of water, into a beautiful park with streams, endemic plants and a lot of butterflies. If you go to Goa, you must visit this Butterfly Park.
 Ovalekar Butterfly Farm at Wadi, Thane
Closer to Mumbai, Rajendra Ovalekar, started a Butterfly Park on his own 2 acres of land at Ovalekar Wadi, off Ghodbunder Road, in Thane (near Mumbai).
This small place has about 100 different species of butterflies. And Ovalekar personally escorts you around the place and explains to you all about butterflies.
Very few people in Mumbai even know about this Butterfly Park.
http://www.wikimapia.org/14420146/Butterfly-Farm
Protecting our Butterflies
A total of 450 species of butterflies have been given protection under The Wildlife (Protection) Act, 1972;
128 species under  Schedule-I,
303 species under Schedule- II and
19 species under Schedules- IV.
Butterflies have also been given protection under the Biodiversity Act of 2002.
 
Commercial Butterfly farming

Commercial Butterfly Farming has been adopted as a viable occupation in several countries. In India, too, Butterfly Farming can help the rural people play an active role in the conservation of butterflies as well as help them earn some good money.
Bombay Natural History Society in Mumbai
The Bombay Natural History Society, founded on 15 September 1883, is one of the largest non-governmental organizations in India engaged in conservation and biodiversity research.
It is also doing a lot of work in relation to butterflies. Its museum has a huge collection of 25,000 butterflies collected over the years. It conducts regular programmes like Breakfast with Butterflies and Butterfly watch camps allowing any one to see and learn about butterflies.
It also conducts distance learning courses in Basic Entomology.
Butterfly Migration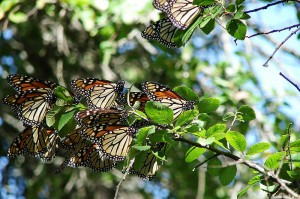 Many animals, birds and other animals migrate….sometimes over long distances. Butterflies also migrate.
A few, like the Monarch Butterfly, migrate long distances. There are no other insects in the world that migrate twice each year for close to 3,000 miles.
But the there is one difference between the migration of butterflies and the other animals. The butterflies who migrate, because of their short life spans, do not live to return to the originating place.
They perish. Only their off springs return. What guides the off springs to the same locations?
Well, this is one of Nature's unsolved riddles.