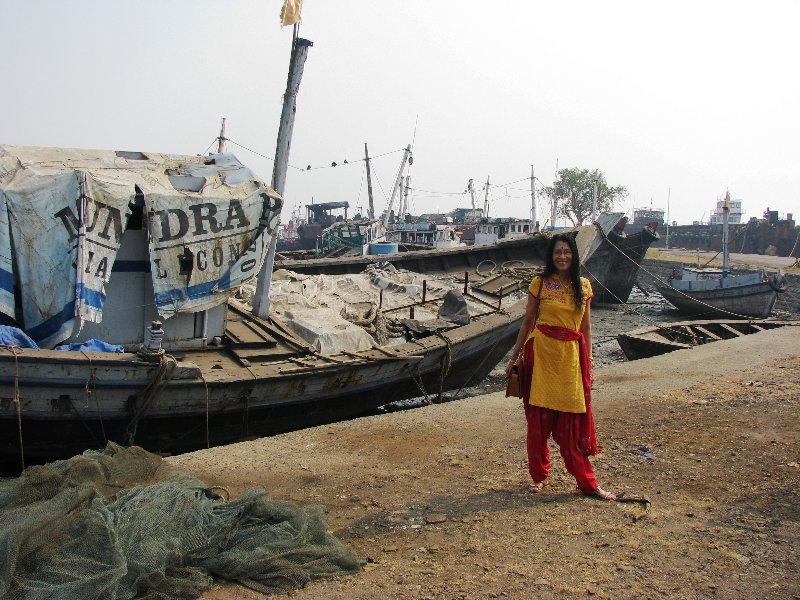 Flamingoes in Mumbai – December 2009

After the monsoons, Flamingoes – the lesser and the greater ones – and a lot of other migratory birds come to the coastal mudflats of India from the North.They feed on the mudflats during the next five or six months and return to their homelands in April or so.
They also come to Sewree in Central Mumbai in large numbers. Sewree is hardly four kilometres from my residence.
But I never saw these birds in the mudflats there.
Call it a Christmas determination or whatever, on the 27th December 2009, I decided to see the flamingoes. We made phone to different people to learn about the tides, how to reach the best location to see the birds and whatever we could learn.
Its simple.  You have to go to Sewree Station. You have to cross the gate (phatak) which takes you to the eastern side of the station.  Ask any one for the Sewree Jetty (or Indian Oil Corporation) or Sewree Khari (Sewree Bay). It is less than a kilometre away.  We reached the jetty in no time.
You should go there when the tide is low.
What a scene it was! I could not count the birds. But there were more than 15,000 flamingoes all around. The younger ones had a blackish colouration and moved around in small groups of their own. There were a lot of other birds.
At the jetty, we clambered up the iron ladder on to a large ship which was undergoing repairs.
(Of course, we first asked for and took permission from the first person we sighted on the ship.)I am attaching some of the photographs.
I am giving the web site from where you can see the tide table for any day.
I am not reproducing my earlier article on flamingoes. I am giving its link.
Read it if you like. And oh, like any other writer I would love to have your views and comments.Binoy GuptaEmail:,  eleena100@hotmail.comWebsite of the Mumbai Port Trust:
http://www.mumbaiport.gov.in/newsite/PORTINFO/weather.htmLink to my earlier article on flamingoes:
http://binoygupta.com/travel_india/flamingo-greater-flamingo-lesser-flamingo-migratory-birds-sewree-creek-mitthi-river-an-indian-bureaucrats-diary-travelogue-on-india-binoy-gupta-234/